Starts: December 30 or 31 Ends: January 4
A small seed,
Pure and inocent,
Was planted in the heart.
Watered with Love,
And the Sun of meditation,
It can be a vigorous tree.
Its shadow gives to all,
And the fruits are wonderful,
Don't you want too…
… come and help it grow?
We live in changing times. The ancient practices of yoga and meditation open doors for our deepest being, doors to a broader view of our true nature and inner strength. This is a transformative experience. This inner change can be shared. We can all make our contribution to a better world, and in that giving… receive.
At the foot of the mystical Sintra mountains, the path will be driven by the ancient wisdom of Tantra Yoga, teaching us techniques and practices that allow us to develop our full potential in the various levels of existence. And in the true spirit of living in the present, we cast a look at our life and ecosystem, and ultimately see that we can be… the Seed of Change!
Location:
Quinta de Santa Maria – in the foothills of the Serra de Sintra, a cozy farmhouse characterized by serenity and natural beauty. The interior environment will be altered to reflect the spirit of simplicity of the retreat. The activity room is a very spacious and bright room overlooking the mountains, including the Pena Palace and the Moorish Castle. A place with adequate energy for deep moments of inspiration and insight.
More information and photos on Thursday: see here
Map: see here
A moment of inspiration
This is an opportunity to enjoy moments of introspection in a peaceful and inspiring environment. Come meditate in silence, doing daily yoga practice, walking in nature, eating delicious vegetarian food, and find that inner space where you are allowed to connect peacefully and harmoniously with other beings and the whole universe. At the same time we will have moments of interaction, reflection on our life and our role on this planet.
We will have the presence of the Indian monk Dada Dhyanananda, teacher of yoga and meditation, which in the last 25 years has worked in social entrepreneurship projects all over the world, including humanitarian aid in the context of natural disasters in African countries, the Middle East and Asia.In the last decade and a half  he has taught the Intuitive Science of Tantra Yoga and Meditation in order to bring health, inner peace, and spiritual development to the human being -essential conditions to creating a better society.
All moments of the retreat are opportunities to get and share inspiration in a familiar and relaxed atmosphere.
Programme: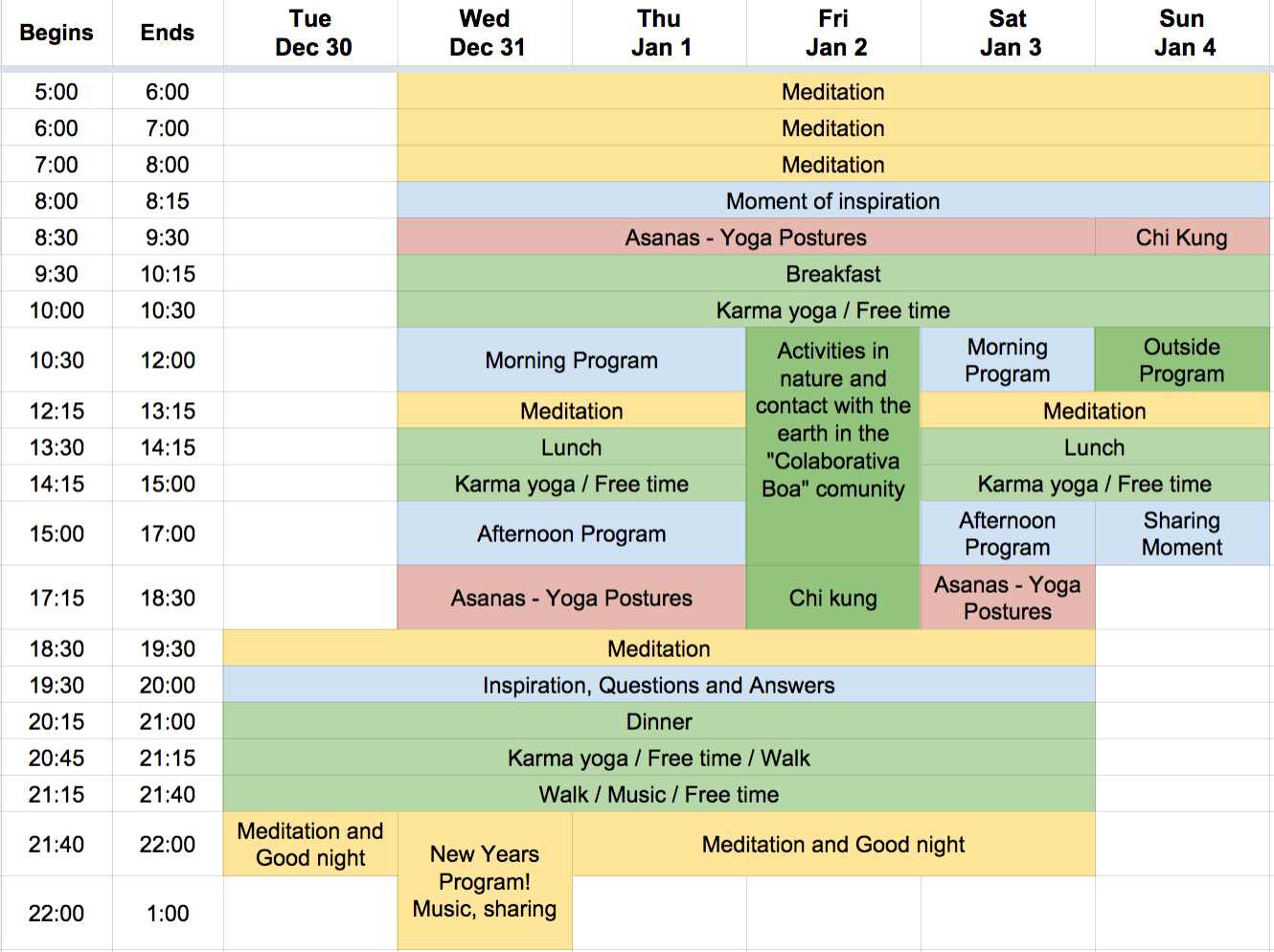 In the times with indication "Morning/Afternoon Program" there will be workshops, presentations, games and activities related to the practice of yoga and meditation and also of reflection on personal transformation and our role in a changing world. All programs are optional.
At any time you can take a walk on the farm.
Accommodation:
The accommodation will be in collective rooms with people of the same gender.The rooms will be in the main building for the first people to register, and after that in a nearby building. All the rooms have heating. There are about 20 available beds that will be reserved for those who ask, in order of registration confirmation (downpayment). Those who do not get one the beds should bring sleeping linens (sleeping bag, mat, pillow, blanket).
It is possible to arrange accommodation in a separate room in a nearby hostel, with additional cost.
Material to bring:
Sleeping bag and mat
Footwear for walking outside
Footwear to be indoors (eg slippers)
Comfortable clothes
Personal hygiene items including bath towel
Paper and pen
Mat for yoga practice (some will be available for those who don't have)
Arrival and departure options (the values shown include food, accomodation and participation in all activities):

(*) Option 3 is intended for those who have to work on Friday January 2nd, and thus interrupt the retreat at the end of the 1st of January (which is a holiday) and back on January 2 in the evening.
Rates include accommodation, meals and participation in all activities.
We are making an effort to have an affordable cost.
The meals are vegetarian (vegan satvika). Includes breakfast, lunch and dinner. It is possible to eat a piece of fruit between meals.
For those who want a single room, there is a possibility of getting a hostel nearby, for which we can indicate a price.
Registration and further information
(Update: the retreat is full. Those who fill the registration form may be contacted in case there are others who cancel their participation.)
The number of participants is limited to the capacity of the space. Early subscribers will have the chance to stay in the main building, where the activities take place. The beds will be allocated in order of confirmation of registration.
Registration:
Information:
This activity is organized by volunteers, we will answer questions as soon as possible, thank you for your understanding.
Movie and testimonies from previous retreats
Here are small slideshows of recent retreats, in narrative style:
Retreat in April 2014:
Retreat in December 2013:
Testimonials of previous retreats:
A moment of inspiration led me to the foot of the enchanted mountain. Sintra, dream village, built by imagination was an idyllic setting and appropriate for my permanence to a deeper contact with my Self. The search for the magic, the inner peace and the meeting with the spirit was done in a noble journey proposal. I remained in a place and so I let myself go. This allowed me to leave my life luggage for a spiritual check-in and freed me to meet my most diverse senses; those that the everyday does not let glimpse. Meditating at 6am I found in myself a vague but virtuous feeling: I knew my place; I know it's not here, I know it was not there, but right in the center of my soul.
Rui Ferreira
************************************************** ******************************************
Going to a retreat at the height of the holiday season alone has a special connotation. The decision to do so was wanting something new, leaving the routine forced by the whole year, and be able to recharge batteries for the new year ahead. So the search for possible programs was not hard. The New Year Retreat 2013/2014 "The Spirit of Yoga" of Ananda Marga, arose because it had to be … everything is what has to be!! After analyzing the program, where it would be experienced, it fully resonated with me and did not hesitate to sign up!!!
And yes, it was a fantastic, unique experience.. from the moment of check-in, through an excellent intensive program, as well as the tireless and loving team without exception, that could the job with nobility, providing unforgettable moments. At the sound of the mantra "Baba Nam Kevalam" which means "All is Love", I lived the days of retreat, with a full heart.
I AM GRATEFUL, so grateful, eternally grateful to the Universe for all that allowed me to experience, enjoy and be able to Be, in these last days of the Year 2013.
I leave with more than I brought, in this wonderful Spiritual Journey!
BABA NAM KEVALAM
Isabel Aparicio
************************************************** *******************************************
After a little searching but really wanting to have a calm and different new years, an opportunity arose to spend the last day of that year in a special place. A retreat in a beautiful space that gave me an unexpected inner journey through different wonderful moments such as the meditations and the Kiirtans, the sound of chanting the mantra Baba Nam Kevalam, lectures, plays, walks, delicious food, prepared by the fantastic Shiila and the music of Pedro de Faro who charmed our ears. Another aspect that I liked particularly was the exhilarating joy of all participants which led to all the tasks that we did had become very pleasant and very inspiring, with mutual assistance in all moments. For me, especially, it was a great joy the way I overcame my motor and balance difficulties I encountered on the hike we did on the mountain, which was only possible with the help of the people who supported me and who knew how to give me the necessary strength and confidence. It was a difficult time but a great lesson that will last for the rest of my life… My thanks.
I came out a different person, more relaxed and better equipped to face life and personal problems that it surprises us with. Thank you from the bottom of my heart to all who contributed to giving me this unique experience. 
(Miguel Moreira)
*****************************************************************************************************
Going to the retreat was an opportunity to dive into my depths. The life that throbbed in the green of the majestic mountains, the sound of nature, meditating, practicing yoga and the inspiration transmitted by the Dadas awakened in me a growing awareness and inner wellbeing. Remembering the times when we saw the rise of the first sunlight of the day, lulled by the sound of a melody that vibrates with the meaning of "love is all that exists", is being touched again by that feeling of universal love. (…) That all beings starved of life, freedom and divine love may be able to dive into this fantastic journey.
(Nádia Cordeiro)